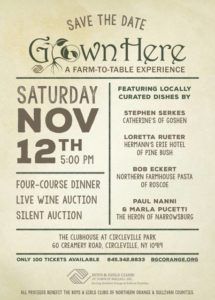 Click HERE
to purchase your tickets online!
On Saturday, November 12, 2016, the Town of Wallkill Boys & Girls Clubs will host their third annual "Grown Here" farm-to-table dining experience, highlighting dishes curated by four local chefs. Each dish will be carefully crafted utilizing locally grown and locally produced ingredients, and paired with local wines, craft beers, and spirits.
An exclusive "rare and unique" wine auction" hosted by Dr. David Ainbinder.
5pm: Social Hour
6pm: Gourmet, Four-Course Dinner
Our talented chefs include:
Loretta Rueter
Hermann's Erie Hotel, Pine Bush, N.Y.
Bob Eckert
Northern Farmhouse Pasta, Roscoe, N.Y.
Stephen Serkes
Catherine's Restaraunt, Goshen, N.Y.
Paul Nanni & Marla Puccetti
The Heron, Narrowsburg, N.Y.
Only 100 tickets will be available for this extraordinary event, and they sell for $150 per ticket or $1200 per table of 8.