Thank You to Our Host Sites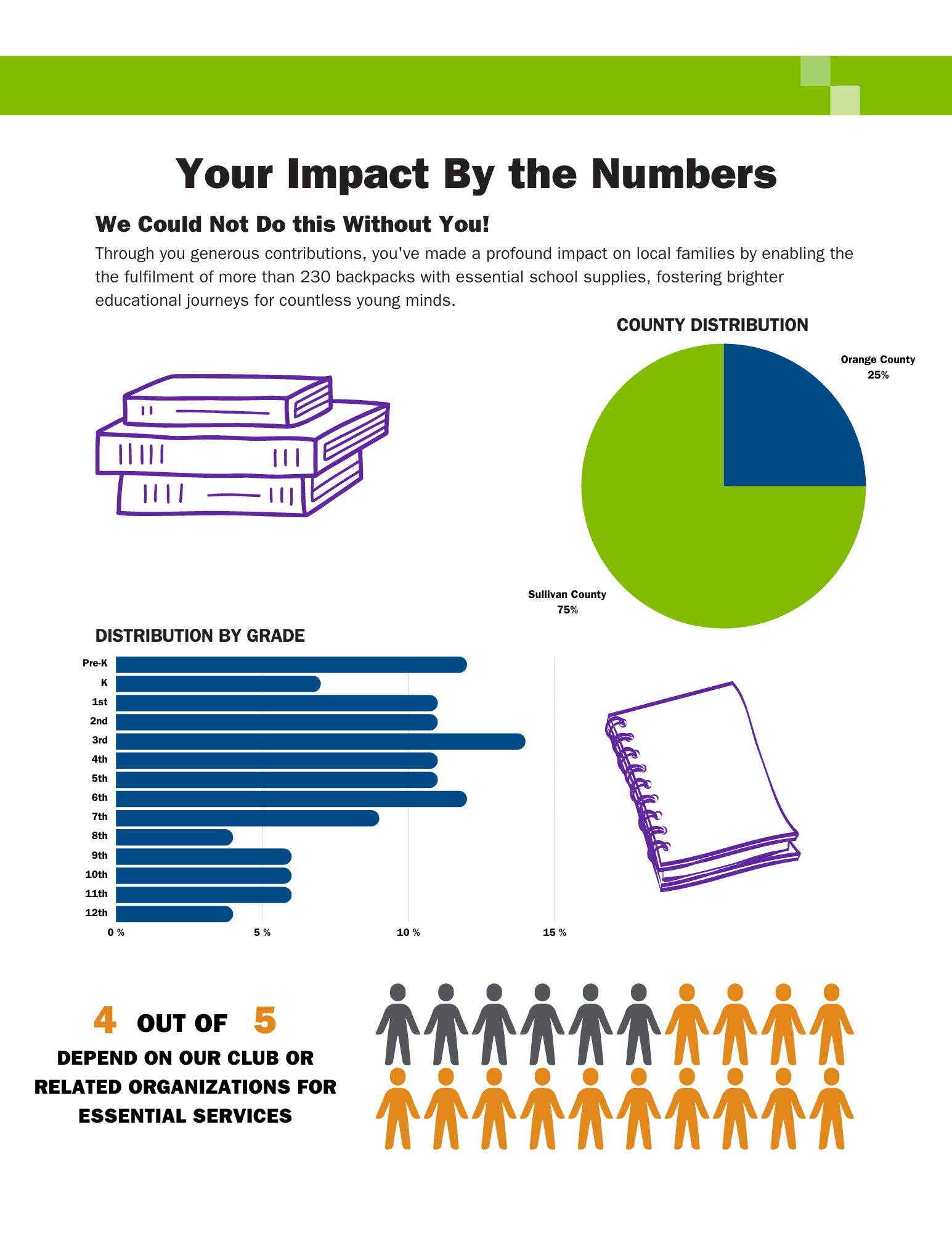 BACKPACKS for HOPE
From July 12th to August 11th, host sites will be collecting backpacks and other school supplies that will be distributed to families between August 21st to August 25th.
 Applications for backpacks will be accepted on a first-come, first-serve basis as long as resources allow.
If you are interested in contributing, but cannot visit one of our host sites, you can still donate below! If you have any questions or concerns, give our office a call at (845) 342-8833!
2023 Host Sites
We are so appreciative of our 2023 Host Sites! This program would not be possible without their support. We are currently accepting applications for 2023 Host Sites. If you are interested, you can download the application on this page or call the office at 845-342-8833. 
2023 Host Sites:
Allstate: 50 Carpenter Ave Middletown10940
BHG Rand Realty: 55 Main Street / PO Box 668 Pine Bush 12566
Catskill Hudson Bank: 2452 Route 9, Suite 104 Malta 12776
Crystal Run Healthcare: 95 Crystal Run Road Middletown NY 10940
Dana Distributors: 52 Hatfield Lane Goshen 10924
Garnet Health: 68 Harris-Bushville Road Harris NY 12742
Gavin Waters Garden: P.O. Box 83 Mountain Dale NY 12701
Katelyn Schaffner, State Farm Agent: 4 E Main Street # 3B, Middletown NY 10940
Misner Agency: 489 St. Rte 52,PO Box 87Woodbourne NY 12788
Nebrasky Plumbing:1019 Rte 17M, Suite 3 Monroe 10950
Resorts World Catskills: 888 Resorts World Dr. Monticello NY 12701
River Reporter: 93 Erie Ave. Narrowsburg 12764
Staples: 470 NY-211, Middletown, NY 10940
Town of Mt. Hope: 1706 NY 211 Otisville 10963
Woodbury Commons: 498 Red Apple Ct, Central Valley, NY 10917   
Interested in Partnering as a Host Site?
Interested in Applying?
If you are interested in applying for your child(ren) to receive school supplies through Backpacks for Hope, please print and fill out the appropriate application below. Instructions for submission can be found on the first page of each application.
Children who do not attend Boys & Girls Clubs' before or after school programs and/or our summer day day camps are required to also submit financial documentation to be considered.
Applications will be accepted on a first-come, first-serve basis as long as our resources allow by the date below.
If submitting for multiple children, please fill out a separate application for each child.
The application MUST be received by our office no later than August 5, 2022.