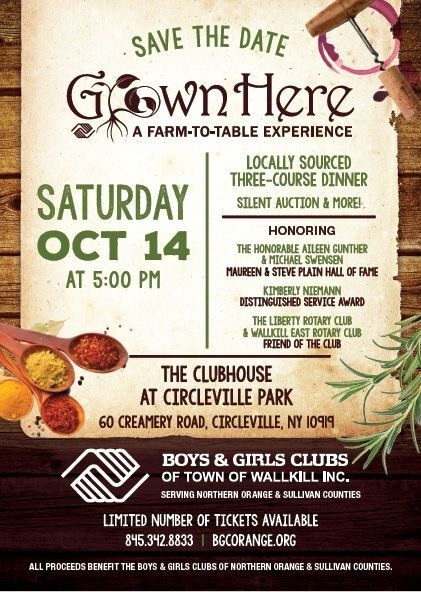 Join us as we come together to wine and dine on everything that is Grown Here!
We are pleased to announce the 8th annual Grown Here Event: A Farm-To-Table Dining Experience.
This exceptional farm-to-table dining experience highlights our local cuisine. Each course will be carefully crafted utilizing locally grown and locally produced ingredients and will be paired with local wines, craft beer and spirits.
This year we're thrilled to recognize the honorable Assemblywoman Aileen Gunther and & former Board Member Michael Swenson as they are inducted into the Maureen & Steve Plain Hall of Fame. Kim Nieman, program leader for our Liberty Middle School Program, will receive the Distinguished Service Award. And, the Liberty Rotary and Wallkill East Rotary will both receive the Friend of the Club honor. Click on each honoree below to learn about their special contributions to the club!
Tickets for this distinctive culinary event are $150. A limited number of tickets will be available this year and can be purchased online or by calling the Boys & Girls Club Office at (845) 342-8833. Tickets for this event are guaranteed to sell out quickly.