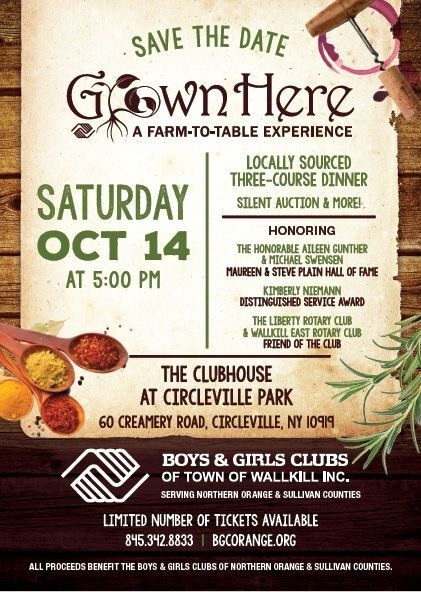 Join us as we come together to wine and dine on everything that is Grown Here!
We are pleased to announce the 7th annual Grown Here Event: A Farm-To-Table Dining Experience. Our event chairman, Paul Ciliberto, will host the event beginning at 5pm at the Boys & Girls Club Clubhouse at Circleville Park in Circleville, NY.
This exceptional farm-to-table dining experience highlights dishes curated by the chefs at Aroma Thyme Bistro. Each course will be carefully crafted utilizing locally grown and locally produced ingredients, and will be paired with local wines, craft beer and spirits.
This year we're thrilled to honor Greg Goldstein & Paul Anderson-Winchell as they are inducted into the Maureen & Steve Plain Hall of Fame. Barbi Neumann-Marty & Shane Merone will receive the Distinguished Service Award. And, Garnet Health Medical Center will receive the Friend of the Club honor.
Tickets for this distinctive culinary event are $150. A limited number of tickets will be available this year and can be purchased online or by calling the Boys & Girls Club Office at (845) 342-8833. Tickets for this event are guaranteed to sell out quickly.