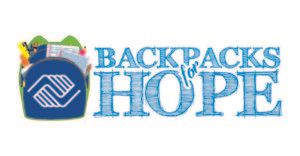 Below are the applications for our 2017 Backpacks for Hope Program! Please make sure you completely follow the instructions on the application to ensure participation. Last year, we were able to provide over 400 backpacks! We are hoping for the same GREAT results this year!
Our Club Kids Application is Available Here (For any child who attends one of our After School Programs or Camps)!
Our Non-Members Application is Available Here!
We want to thank the following sites for agreeing to be donation drop sites for the 2017 Backpacks For Hope Program! If you would like to donate school supplies, please stop at any of the following locations!
• Ross Electric in Ferndale
• UPS Freight in Montgomery
• Revere Smelting in Middletown
• Town of Wallkill Town Hall in Middletown
• Town of Mount Hope Town Hall in Otisville
• Town of Neversink Town Hall in Grahamsville
• Misner Agency in Woodbourne, Livingston Manor, Middletown, or Westtown
• Jeff Bank in Callicoon, Eldred, Jeffersonville, Liberty, Livingston Manor, Loch Sheldrake, Monticello, Narrowsburg, Port Jervis, White Lake, or Wurstboro
• Sullivan County Manager's Office in Monticello
• MyChoice Pregnancy Care Center in Middletown
• Liberty Fitness Center in Liberty
• Roscoe Beer Company in Roscoe
• Catskill Regional Medical Center in Monticello
• BHG Rand Realty in Pine Bush
• Crystal Run Healthcare in Middletown
• Nebrasky Plumbing in Monroe
• Absolutely Flowers in Middletown
• Edible Arrangements in Middletown and Monroe
Thank you so much for your support of our Backpacks For Hope Program! Without you, none of this would be possible!